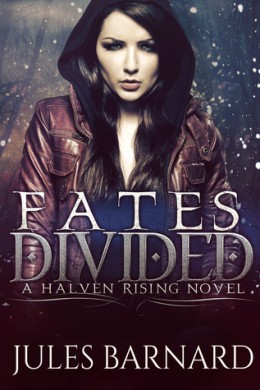 Elena Rosales has busted her ass to get into a good college. She's the only one in her family ever to attend, and expectations are high. No pressure. But Elena's got this one in the bag, because she's as dependable as the molecules she studies, as reliable as the chemical reactions that comfort her in their predictability. Until they don't.
Elena has always wondered why her mother abandoned her on her first birthday. It's not until she turns eighteen and her chemistry experiments go berserk that she learns the truth: Her mother wasn't human, and the Fae are willing to harm those Elena loves if she doesn't use her power over the elements to cure them of a deadly disease. Derek, Elena's brooding neighbor, isn't the friendliest guy, but he has access to an off-hours lab and is willing to help Elena create the antivirus. He has his own secrets to keep, and this business Elena is mixed up in could blow his cover. But when Elena and Derek get together, more than chemicals spark fire-and they soon discover just how complicated attraction can get when they find themselves on the other side of the portal, fighting for survival. Lives collide, and allegiance and love are tested, in Fates Divided.
4 Star Review
Starting her 18th birthday nearly exploding chemicals in a lab is not what Elena had in mind for celebrating, but coming up with a logical reason for what is happening to is just not gonna happen. So what about when a totally crazy reason is presented to her? Can she believe it and they want her to do WHAT? This has gotten......complicated and that's not including her neighbor who also seems to have a few secrets of his own.
Derek was trying to keep a low profile, but that is blown away when he and Elena start working together, and then there's what they've been tasked to do. Because the fate of a world is exactly what he wanted on his shoulders.
Elena is headstrong, but smart she knows when to accept things and when to push and ask questions. Her youth comes out in some ways, but in others you see just how mature she really is.
Derek is tough on the outside but inside he's a big teddy bear. He sees problems before most and figures out what needs to be done. He is also insecure at times and doesn't know how to act or when to just accept something for the way it is.
This story brings you into a new world where magic is real and extraordinary things are possible. There are a few twists that keep you guessing and the storyline draws you in and you never know what could happen next! Interesting start to a new series and while I wish there would have been a bit more to the story at the end I excited to see where it goes next!
About Jules Barnard
Before turning to storytelling, Jules earned a master's degree in public health and spent many an hour running statistical analysis–until she realized her favorite part of the job was writing reports. She decided to cut out the math and add in some hot guys, and so began her career as a novelist. Jules is a Northern California native living on the coast with her husband and two children. She has no impulse control around cupcakes and credits herself with the ability to read while running on the treadmill or burning dinner.