Left To Chance
Lila Rose
Contemporary, YA Romance
Release Date Aug 26, 2014

**For 18 years and over.
This novel contains a M/F/M relationship


**Warning** For 18 years and over. This novel contains a M/F/M relationship.
Jade Lewis's night out soon turns in to so much more than expected. A one-night stand with Chance Colt becomes more than she ever bargained for. His determined pursuit of Jade and her resolute dismissal of his charms leave Jade at odds with her inner hussy.
Confident she has managed to dodge the attraction she has for Chance, she lets down her guard, only to be taken by surprise by Chance's ploy to win her over and convince her that they're perfect for one another. Enter Dane, Chance's best friend. Jade quickly realizes all the fight in her was useless, especially when things are left to Chance.
I was born in Brisbane Australia. Her step-dad was in the Army and so Lila Rose has moved about Australia a good majority of her life. She finally settled in country Victoria, Australia.
I am the youngest of four children and I can say that I was spoilt a bit. I drove my mum crazy when I refused to eat meat at a young age. Lila has always dabbled in writing, but only recently began to publish. Starting with Holding Out in 2013.
She lives with her husband and two children, and finds herself regretting all the troubles she put her parents through because her little monsters are just as picky as she was. When she isn't writing she's helping her husband with the family business.
Lila self published her debut novel, Holding Out, on December 4th 2013. Holding Out is the 1st book in her Hawks MC Series. The next to follow was something a little different, Senseless Attraction, a YA novel. Soon she was back to the Hawks series with number two Climbing Out. She has more to write in the series, but there will be also be more novels in the humorous erotica genre, like Left to Chance.


https://www.facebook.com/AuthorLilaRose

https://twitter.com/AuthorLilaRose

https://www.goodreads.com/author/show/7236200.Lila_Rose

http://www.amazon.com/Lila-Rose/e/B00JVF5LC2/ref=sr_ntt_srch_lnk_1?qid=1409015014&sr=1-1

Chapter 1 from Left To Chance
https://www.goodreads.com/author_blog_posts/6755703-see-the-first-chapter-to-left-to-chance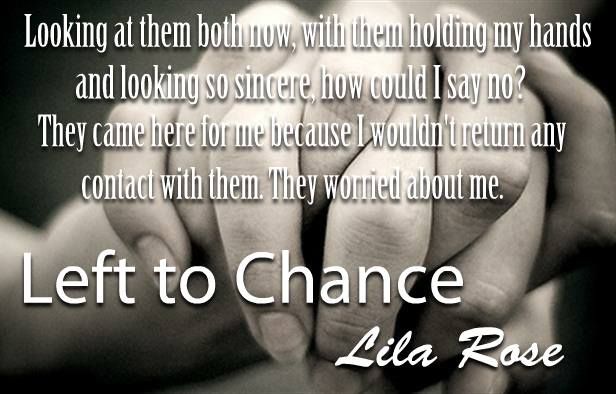 ******PLEASE ADD BUY LINK HERE********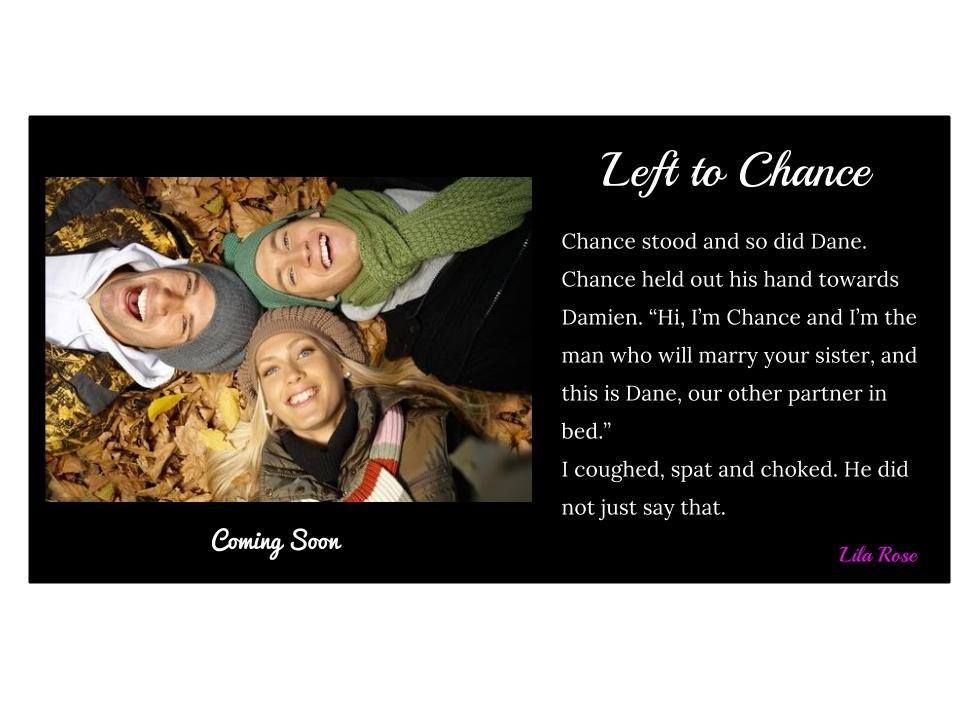 5 Stars
Jade just wants to hang out with her new friend, but what was supposed to be a fun visit at her house turns into a boring party her friends parents are throwing Jade hides from it in the game room when she meets hot, hunky, Chance who knows at first glance that he wants Jade. Being plus sized means someone like Chance showing her attention doesn't seem real, but what happiness after her fun romp when she realizes his age she freaks, and when he relentlessly pursues her, Jades life is turned upside down.
Jade is strong, smart, and oh so sassy. She happy in her skin and never afraid to speak her mind, even if that does get her into trouble sometimes. When it comes to men though she's insecure, until you get her into a bedroom, or office, or hotel room.... that's when things get wild with her.
Chance might be young in years, but he's got everything going for him, and when he sees something he wants he goes after it with a passion. He's also not afraid of what he wants and showing it, even if it's not traditional or conventional.
Dane is a sweetie, young too but like Chance knows what he wants and goes for it. It might look like he's along for the ride but all three characters bring something great to this story.
This isn't a sappy romance where the characters roll over and give up when things get tough. It's a kick ass novel with a smart mouthed heroine, and sexy men who knows just what to do to get their way. There's lots of steamy scenes and sweet scenes and then there's the fall out of your chair, laughing so hard your crying scenes! The flow in the book is great and I loved every minute.
The secondary characters also added allot to the story and I'm excited to see them get their stories in the future as well.
Hawks MC Series
Holding Out –
TBR—
https://www.goodreads.com/book/show/18374999-holding-out
Zara Edgingway is a twenty-six year old secretary. She has a daughter that apparently knows it all and a best friend that could possibly have the mouth of Satan, but she's been with her through hell and back. Then there's the hunk'a'licious biker neighbor finally showing interest in her. If only she wasn't about to face her next obstacle in life, the one she ran from six years ago; her ex-husband.

Talon Marcus is the president of the Hawks Motorcycle Club. For two years he's had his eye on the quiet, reclusive, yet sassy, neighbor Zara. Finally, he has the chance to claim her as his woman. Just when her past catches up with her, she'll need, not only his protection, but the help from his biker brothers.

Now, if only she'd stop fighting him along the way.
Buy Link --
http://amzn.to/1qdq1bY
Climbing Out –
TBR –
https://www.goodreads.com/book/show/18717645-climbing-out
For 18yrs and above

Deanna Drake has a past she longs to forget, but won't ever be able to. She's always been the tough one. No one, but her best friend Zara has ever been able to penetrate her cold, hard, shell.

Until Griz

Griz— a.k.a Grady Daniels, Hawks Motorcycle Club second in command, also has a past that he wishes he could undo...all except one part.

It's her past that brings them together. Only will it be forever?
Buy Link --
http://amzn.to/1tDy3w1
Standalone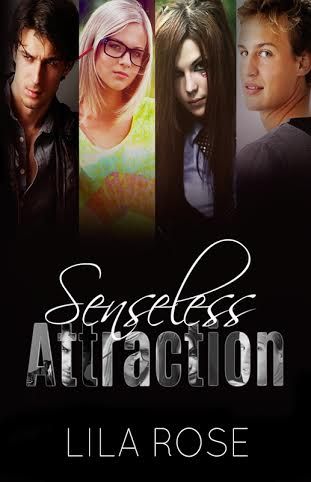 Senseless Attraction –
TBR –-
https://www.goodreads.com/book/show/20561852-senseless-attraction
*YA novel*

For 15yrs and above.

Three parts. Two points of views.

Never one to care what others think, seventeen-year-old, Mt. Henry High School student, Skylar James, is content with it that way. That is until she's assigned her history partner, rich-boy Kane.

Being invisible at Rushton High School, is just how seventeen-year old Alexandra Harmony likes it. That is until she's asked to tutor bad-boy Tristan.

What does it take to make opposite yet parallel lives collide

Senseless Attraction
Buy Link --
http://amzn.to/1wug53O